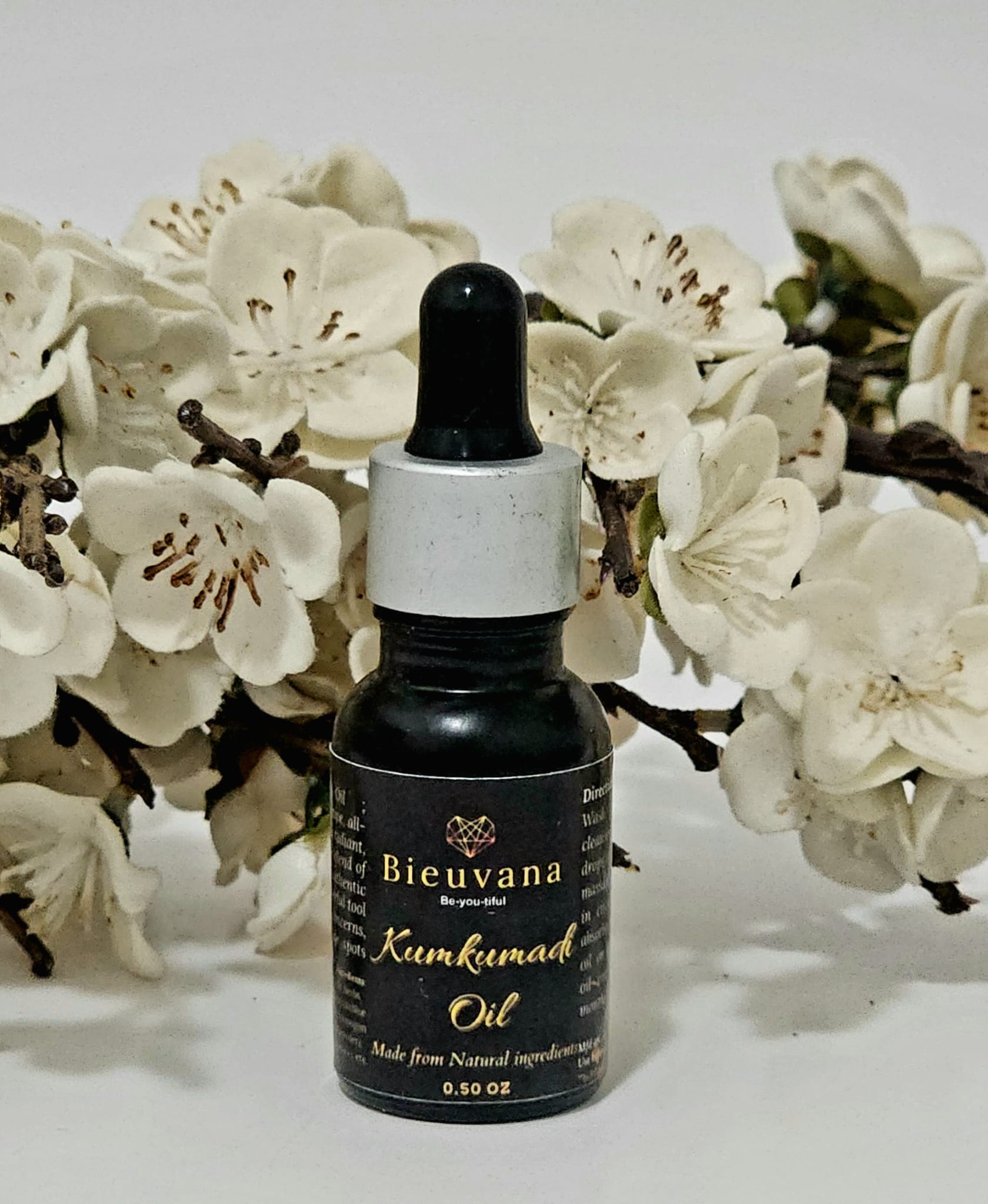 Kumkumadhi Oil - 0.5 oz
Sale price
$32.00
Regular price
$35.00
Kumkumadhi Oil
This traditional recipe of Kumkumadi oil gives a natural Glow to the face, overcoming hyper-pigmentation, age spots, wrinkles, and blemishes. This oil contains pure saffron, goat milk, and 23+ authentic herbs.

Ingredients:
Crocus sativus(Saffron), Roots of ten Ayurvedic herbs, Rubia cordifolia(Indian madder), Nymphaea nuchal(Blue Lotus), Sesamum indicum(Sesame Oil), Chrysopogon zizanioides (Khus), Santalum album (Sandalwood powder), Glycyrrhiza glabra(Licorice)
Benefits:
🌿 Anti-aging and removes textured skin
🌿 Eliminates dark spots
🌿 Retains skin moisture.
🌿 Removes dark circles, pigmentation, and blemishes
🌿 Cures accidental marks. Pregnancy stretch marks, scars, etc

Directions for use:

Wash the face (if available, with a gentle cleanser like Bieuvana Orange powder face wash) and pat it dry
Take 2-3 drops of Kumkumadi oil and gently massage it onto your face and neck in circular motions until it gets absorbed.
For best results, leave the oil on overnight.
Use Kumkumadi oil consistently for at least 2-3 months to see the results.
Disclaimer: 
Herbal products are, in general, safe to apply. Individual experiences may vary. If you experience any allergic reactions, please stop applying the product immediately, wash it thoroughly, and seek immediate medical help.